Testimonials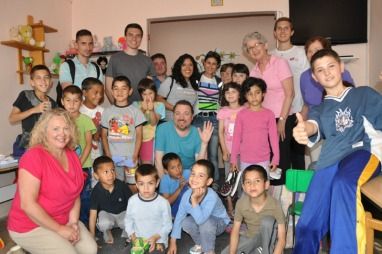 I want to say thank you to the foundation Hearts Across Romania and to Mrs. Mariana Achiriloaie for all their support and for improving our activity with children here. A lot of the children are better because of the instruments and the devices Hearts Across Romania donated us.
Dr. Dana A., Children's Medical Hospital – Brasov, Romania
---
I want to tell you about a conversation I had with Eli, a young man my age who grew up in an orphanage. Eli is sponsored by Hearts. When I came to Romania on my second visit in 2007, Eli said to me: "Sam, you came back." Yes, I did. "You don't understand ... people never come back. People come and they feel bad for us. But then they go home and they forget about us. You came back." His words have influenced me more than he can ever know. For many of these kids, Hearts Across Romania is the most consistent thing they have known in their lives. These kids move from orphanage to orphanage and are raised by the staff. What they want is a family. And for many of these individuals, Hearts is the closest they have to family.
Samantha M., Board Member and Work Team Volunteer – Dallas, TX
---
This work team trip was truly life changing and completely altered my perspective of the world. From playing soccer with the boys at the different orphanages to spending an afternoon with the girls at Rupea - it was incredible to see how much joy and happiness these children got just from our group hanging out with them. Aside from the humanitarian work, this experience was eye opening because we got to see how people on the other side of the world live everyday. In the words of Gandhi, "be the change that you wish to see in the world." Hearts Across Romania exemplifies this mantra and I thank them for organizing this trip and their continued work to enhance the lives of the children in the orphanages and bringing happiness to these children one pair of shoes at a time.
DJ S., Work Team Volunteer - Dallas, TX
---
My favorite part of this [Spring 2014 Volunteer Work] team was the extreme differences of each member and how it worked so well. From the ones who were born and lived in this country to the first time volunteers. This just made for a great event. I can't really call this a work trip because I received so much gratification from all that was accomplished. I will always be amazed by Florin [Catanescu] and his never-ending energy and passion to help everyone and anyone in need. The happiest time was seeing the smiles on the faces of all the children over a new pair of shoes. Thank you all for an amazing trip!
LeighAnn W., Board Member & Work Team Volunteer - Arlington, TX
---
This work team trip gave me a firsthand view of what is happening in Romania today to help children, young adults, seniors and families in poverty. Hearts and their partner Romanian non-profit and government organizations are making an impact and I was glad to be a part of that group. We had so many good experiences volunteering and spending time with new Romanian friends. Thanks Hearts for a great trip.
Doris M., Work Team Volunteer - Sunnyvale, TX
---
This was such an amazing experience for me - one I will never forget. I loved all the people I met in Romania as well as the other volunteers on our team. I made many new friends both on the team and in Romania. Hope I can go back! I will never forget all the children, teens and families we met and were able to help. Thanks Hearts for providing me with this unforgettable experience.
Caitlyn K., Work Team Volunteer - Lewisville, TX
---
I have just completed my third humanitarian trip to Romania with the Hearts Across Romania (HAR) team. During my first two trips I served as a volunteer and on this trip, I was there as a HAR board member. Each of the visits was unique and very rewarding as each time I made the trip with a different group of volunteers. I have memories of the orphanages, the hospitals, and the smiles of the Romanian people that we met; they are so thankful for anything we do to enrich their lives.
Jerry W., Board Member & Work Team Volunteer - Dallas, TX